Welcome.
Welcome to marychee.bs.com, my personal place on the net for posting my daily, sharing my thoughts, and ideas. My name is Mary, I'm 17 years young and I live in Penang with my family. I'm super friendly and I talk way too much for my own good. Btw, I loves to takes photos with my Canon Ixus 1000HS and love hanging out with my boyfriend to know more about him. Lastly, I love to design with my photos and writing diary while I am listening to music. It could makes me relax my mind and change my perception in life.
Shout with me.
Leave your message here. Foul language are not allowed here and no spamming too. Be aware~! your shoutbox here
About The Author


NAME: Mary, MaryChee, Emiko, TeanMin
AGE: 17
DATE OF BIRTH: 3rd of March '94
ZODIAC: Pieces
NATIONALITY: Malaysia
COUNTRY: Penang
STATUS: In An Open Relationship
SCHOOL: SMK Hamid Khan

1. Foods: Mom's food, Pizza, McChicken, Mee Goreng, Chicken Chop, Curry Mee.
2. Drinks: Orange Juice, Apple Juice, Honey Ice Blended, Sarsi
3. Fruits: Banana, Orange, Grapes
4. Deserts: Jelly, Salad, Mush Potato, Ice-Cream, Rozak, Chendol
5. Colours: Blue, Red, Grey, Brown
6. Pet: Rabbits
7. Singer: (English) Taylor Swift, Backstreet Boys. (Chinese) Jay Chou, Wang Lee Hom, JJ Lin, S.H.E, Rainie Yang



Store


1. M&G
2. Forever 21
3. Nike
4. Padini
5. Top Shop
6. Esprit
7. Charles & Keith
8. Voir



Loves


1. Taking photos
2. Hanging out with for shopping
3. Drawing
4. Watching movies Love Story
5. Cute stuffs
6. Messaging
etc.



Hates


1. Chocolate
2. Cockroaches
3. Snobbers
4. Backstabber
5. Snakes
6. Dogs



Ten things I love to wear when I go out


1. Jeans
2. Skirt
3. Dress
4. Shorts
5. Shirt
6. T-Shirt
7. Heel Shoes
8. Scandles
9. Sun Glasses
10. Watch



Five things I currently do


1. Taking Photos
2. Outing with bf & friends
3. Surfing Internet
4. SMS
5. Playing Piano


Five Wish Lists


1. Dye My Hair
2. DSLR Canon
3. Go trip with my bf & family
4. Iphone 4
5. Banglo





Theme by Marychee marychee.bs.com 2009-2011 © All Rights Reserved. Powered by Blogger.

Links


RULES ABOUT EX-CHANGE LINK
1. Tell me if you changed blog URL.
2. I will erase those inactive links/removed me from your blog
3. Link exchange for those who always view my blog, comment my post and dropped message on my tagboard.

your link here

Theme by Marychee marychee.bs.com 2009-2011 © All Rights Reserved. Powered by Blogger.
For My Visitors


Site name: Girlish Diary
Site link: http://marychee.blogspot.com/
Site opened: 01/ August/ 2010 (The Newest)



About this site:


I have been blogging since 2009. Blogskin.com introduced me into blogger world. My blog layout started with a white and simple skin then I keep tried asking those cyber friend about How To Make A Skin but no one telling nor answering me till I tried for asking them =.=! Then I try my best for making but I failed for doing it. I was so freaking hopeless and sad till one of my best friend cheer me up and support me with making a skin. Finally I know how to made my own skin with different codings which related at blogskins.com.





Previous Skin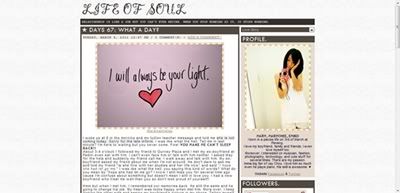 Click here to see more for my previous skin.




Credits


Tell me nicely if I forgotten credit you. Do not spam my tagboard and no rude words available here!
Designed by Mary.
Background from Drikoti Materials from Bunnydoll
Banners from Yanilavigne
Smilies from Krishtoot
Font from Dafont
Shadow codes from 16thday

Theme by Marychee marychee.bs.com 2009-2011 © All Rights Reserved. Powered by Blogger.
Site Statistics

Click

follow

to read the latest updates about her blog!

It will appear right in your

blogger dashboard.

Navigations is on top of the post.

Screen size 1024 x 768

Best viewed in Google Chrome.

My personal site.

You are not allowed to

right-click

on my page!

online

Disclaimer

Everything which found here is belongs to the Author Of This Blog, MaryChee. No copy paste or grabbing any stuff from here unless you get the permission from her.

It would be

an idiot's job

if you rip bits and bits of her layout without her prior notice.